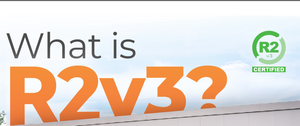 WHAT IS R2V3 AND WHAT DOES IT MEAN TO YOU?
R2V3 is a certification standard for responsible electronics recycling, focused on promoting sustainable practices in the electronics industry. This standard is used to ensure that electronics are recycled in an environmentally responsible manner, and that they do not contribute to e-waste or pollution.
The R2V3 standard was created by the Responsible Recycling Practices (R2) Technical Advisory Committee, a group of industry experts, environmental organizations, and government agencies. The goal of the standard is to create a set of guidelines for electronics recyclers that promote best practices, transparency, and accountability in the industry.
So, what does this mean for you as a consumer or electronics user?
First, it means that when you dispose of your old electronics, you can be confident that they are being recycled in a responsible manner. This helps to reduce the amount of e-waste that is generated, and ensures that toxic materials are not released into the environment.
Second, it means that you can choose to work with electronics recyclers that have been certified under the R2V3 standard. By doing so, you can be sure that the company is adhering to strict environmental and ethical standards, and that they are committed to minimizing their impact on the environment.
Finally, it means that you can contribute to a more sustainable electronics industry by supporting companies that prioritize responsible recycling practices. By choosing to work with R2V3-certified companies, you can help to promote a culture of sustainability and encourage others in the industry to adopt responsible practices.
In summary, the R2V3 standard is an important step forward in promoting responsible electronics recycling. By choosing to work with certified electronics recyclers, you can help to reduce the environmental impact of e-waste, and contribute to a more sustainable future for our planet.
---